Learn how EmPower New York provides free home improvements to qualified residents
People across the North Country and Capital Region know how important it is to have an energy-efficient home. But understanding the best ways to save energy and paying for the necessary upgrades isn't always easy. That's why Jack Hall Home Energy Services works with the New York State Energy Research and Development Authority's EmPower New York Program to help local homeowners and renters make energy-related improvements at no cost.

What is EmPower New York?
Under the EmPower New York program, NYSERDA contractors, including Jack Hall Home Energy Services, assess your entire home, including how it's heated and cooled, how it's insulated, and decide if you would benefit from free energy upgrades including:

Improve home comfort and energy efficiency with attic and wall insulation upgrades.

Energy-Efficient Lighting
Installation of high-efficiency, LED lighting.

Energy-Efficient Appliances
Facilitating the replacement of old refrigerators installed by a third party.

Heating & Cooling Heat Pumps
keep your home efficient with Installation of clean heating and cooling heat pumps.
Based on the energy assessment, as an EmPower New York contractor, Jack Hall Home Energy Services can recommend energy efficiency measures to NYSERDA. Once the services or upgrades are approved, we can complete the job at no cost and then conduct testing to ensure everything is performing optimally.
Who qualifies for EmPower New York?
The EmPower Program is open to homeowners as well as renters. You may be eligible if you meet these criteria:
People who qualify won't have to pay a dime for energy-related home improvements, including insulation, energy-efficient appliance upgrades, energy-efficient lighting, HVAC upgrades, and more. The first step you can take is to check to see if you qualify.
How do I apply for EmPower New York?
Applying for EmPower New York is easy – just click the button below to complete the online application. This application allows residents to apply for energy efficiency incentives through either EmPower New York or the Assisted Home Performance with ENERGY STAR programs.
Both programs are open to income-eligible owners and renters of 1-to-4 family homes and provide no-cost energy audits and incentives aimed at making your home more energy efficient.
During the application process, you can select a participating program contractor. Jack Hall Home Energy Services have helped hundreds of clients under the EmPower New York program, and we would be glad to serve you. If you are working with a NYSERDA energy advisor, you will be able to select Jack Hall and they will be able to follow the progress of your application and project.
EmPower PLUS: A great way Jack Hall can work with you
If your application for the EmPower Program doesn't meet the eligibility parameters, you may qualify for EmPower PLUS, which helps pay for as much as 50 percent of the costs of eligible upgrades, up to $4,000. Both programs share the same application process so you may be automatically approved for EmPower PLUS if you don't qualify for EmPower New York.
The first step after an application is approved is an energy audit with the experienced technicians from Jack Hall. During the audit, our team will replace inefficient items ranging from light bulbs to carbon monoxide detectors to programmable thermostats. We'll also perform a blower door test, which is a diagnostic tool that determines how much air is entering or escaping a home, and inspect insulation, venting, appliances, and water heaters.
Following the audit, Jack Hall technicians will put a proposal together recommending upgrades to you and NYSERDA. When the proposal is approved, the customer pays their percentage of the cost and the upgrades are put on our work schedule. What makes Empower PLUS unique is that based on the audit consumers can choose the upgrades they prefer, which gives them the flexibility to create their own home energy efficiency strategy.
If you're interested in the EmPower New York Program and have questions or need some help with the application process, don't hesitate to reach out to the team at Jack Hall Home Energy Services. We can help you navigate the forms and provide feedback on how you can best benefit from NYSERDA's energy incentive programs.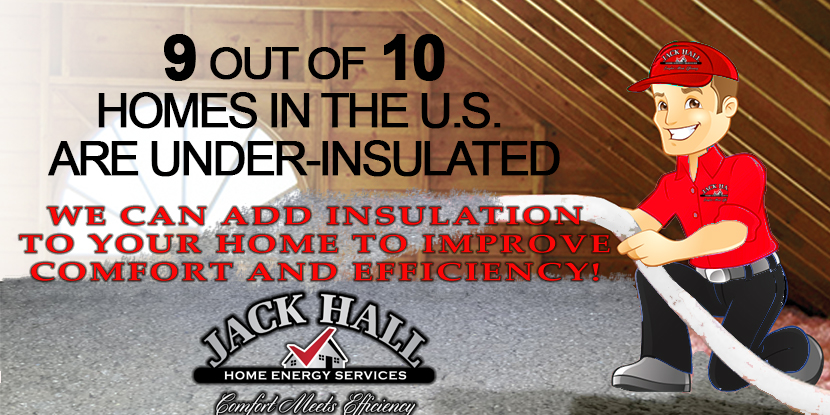 Need help with the application process? We can help.