Benefits of finding and fixing air leaks:

call for your appointment today!
Blower Door Testing in The Adirondack Region
We create comfortable homes by fixing leaky ones
One of the quickest and most affordable energy-saving projects is to seal cracks and openings around your house, but first you have to find the leaks. Blower testing is one way to do that. Some air leakage is obvious because you can feel it, such as a draft around your window or under an exterior door. Other leaks are less obvious.
Air leakage can be contributing to your uncomfortable home and high energy bills. Before installing new energy-efficient windows or making other efficiency upgrades, we recommend having a blower door test performed during your home energy audit to determine exactly how your home is using and losing energy.
How a blower door test works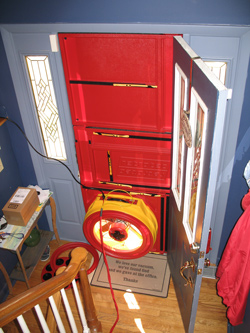 A blower door test, typically performed as part of a
home energy evaluation, helps locate air leaks in a house and is performed before and after air sealing work.
A blower door uses a special fan that's mounted in the frame of an exterior door to pull air out of the house, lowering the air pressure inside. The pressure difference between the air inside and outside the house forces the outside air in through all cracks and openings. While the fan is running, a technician will inspect each room for air leaks. A pressure gauge measures the pressure differences inside and outside the home and an airflow manometer measures the airflow.
Based on the results of the blower door test, we can recommend the best solutions for your home's comfort and energy problems – and perform the work.
Schedule your blower door test today!
For an accurate diagnosis of air leakage in your home, contact us today to schedule your blower door test and comprehensive home energy assessment in Gansevoort, Katskill Bay, Ballston Spa, Greenfield Center, Stillwater, Greenwich, Hartford or nearby. We are the trusted home energy services auditor in Glens Falls, Saratoga Springs, Queensbury and surrounding New York areas.