Why choose us for your commercial plumbing needs?

call for your appointment today!
Commercial Plumbing Contractor For The Southern Adirondack Region
Top-notch technicians and techniques to answer all your plumbing needs
Jack Hall Plumbing & Heating wants to be your go-to commercial plumbing contractor for all commercial plumbing services. By responding quickly to your plumbing needs and completing all work on time and on budget, we hope to contribute to your business success.
Our skilled plumbers can handle all types of commercial plumbing problems, big or small. From a leaky faucet to a major water leak, we're the trusted company in The Adirondack Region for reliable commercial plumbing services.
Give us a call or contact us online for an estimate today! We proudly serve businesses and commercial facilities in Glens Falls, Saratoga Springs, Queensbury and nearby.
Our commercial plumbing services
Because you don't know when a plumbing emergency will occur, Jack Hall Plumbing & Heating has crews available 24/7. Our technicians have the experience and equipment to tackle just about any kind of plumbing disaster or plumbing repair. But we're also the contractor to call when you're planning to remodel, upgrade or build new. In these less-urgent situations, we can collaborate during the design phase, making you aware of products and details that can help you achieve your goals.
Contact us today to get started on the plumbing services you need for your home. We serve many areas of upstate New York with expert installation, plumbing repair or other plumbing services. Saratoga Springs to Lake George and Queensbury to Greenfield Center, Gansevoort, Katskill Bay, Hartford, Stillwater, Greenwich, Ballston Spa and surrounding areas.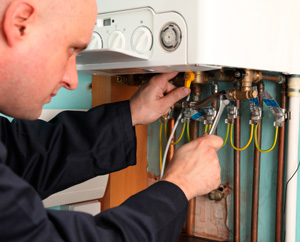 Count on excellent products and great value
We invest in training and technology because it ensures the best value for our commercial plumbing customers. Our plumbing crews always have what it takes to work efficiently, solve problems effectively, and produce the top-quality results that our commercial clients deserve. We have access to a wide range of plumbing products from leading manufacturers, and we'll help you select the fixtures and other items that match your needs. Whether you need to upgrade a restroom, replace a boiler or rough-in the plumbing for a new office space, we are ready to contribute extra value to your project.
Get the quality plumbing services you need
If you require plumbing services for your The Adirondack Region business or commercial property, the experts at Jack Hall Plumbing & Heating are ready to help. Call or email today to schedule an appointment in Saratoga Springs, Glens Falls, Queensbury, Gansevoort, Katskill Bay, Ballston Spa, Greenfield Center, Stillwater, Greenwich, Hartford and surrounding areas of New York.