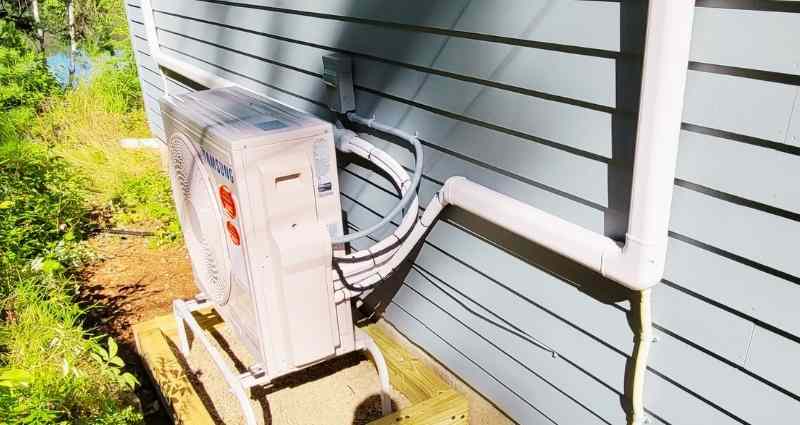 Your Outdoor HVAC Equipment
Your outdoor HVAC unit is an important part of your home's heating and cooling system. It's responsible for pumping cooled or heated refrigerant into your home, rain or shine!  If it isn't functioning properly, your home simply won't be comfortable.
If you have an outdoor HVAC unit, it is covered in snow, pelted by rain or covered in falling leaves. You may be wondering if it is safe from the elements.
Some of the questions you may have:
Will rain or snow harm my HVAC unit?
How do I protect my outdoor HVAC unit?
Should my old outdoor unit be replaced?
Is it safe to cover my HVAC?
Should an outdoor A/C unit be covered?
What happens if my heating, ventilation and A/C unit gets flooded?
Can I run my heating and cooling system during all weather conditions?
Because they are exposed to the wind, rain, cold, snow, you may be concerned about their durability. Rest assured your HVAC unit is designed to withstand all of these conditions.
What are the risks associated with an aging outdoor HVAC unit?
Your outdoor HVAC unit is constantly exposed to the elements. Over time, depending upon conditions, this exposure can take its toll, causing damage to the unit. This damage can lead to costly repairs and may require replacement.
In extreme weather conditions, an outdoor HVAC unit that isn't properly protected can be at risk of being blown over by high winds, or damaged by flying debris. This type of damage can cause the unit to leak refrigerant, which can be harmful to the environment.
Rain and snow can also cause damage to outdoor HVAC units. If water gets into the sealed controls of the unit, it can corrode the metal and damage the electrical components. This type of damage can be expensive to repair, and it can also lead to safety hazards.
How Are HVAC Outdoor Units Designed To Withstand Harsh Weather Conditions?
Outdoor HVAC units are designed to withstand the outdoor environment by using materials that will not corrode or rust. The units are also designed to be wind and water resistant. In addition, many outdoor HVAC units have a weatherproof coating that helps protect the unit from the elements.
HVAC outdoor units are designed to be durable and long-lasting, but there are still some maintenance tasks that need to be performed in order to keep them running smoothly. For example,
the condenser coils should be cleaned on a regular basis to prevent them from becoming clogged with dirt and debris.
Fan blades also need to be kept clean in order to ensure that they are able to move freely and efficiently.
The filters of the inside unit should be replaced or cleaned regularly to ensure that they are able to trap airborne contaminants before they have a chance to circulate in your home.
By following these simple tips, you can help extend the life of your HVAC outdoor unit and keep it running at its best.
Is It Safe To Run My HVAC Heat or A/C During A Storm?
Outdoor HVAC units are safe to operate under normal weather conditions, including rain or snow storms.  If you live in an area that is prone to flooding, however, your outdoor HVAC unit may be at risk of damage during extreme weather events. You can take some precautions to protect your outdoor HVAC unit from damage. One way to do this is by installing a flood barrier around the unit or raising the unit above a known flood level. This will help to keep rising water from entering the unit.
If you are concerned that your outdoor HVAC unit may have been damaged by rain or flooding, contact Jack Hall Plumbing & Heating for a qualified technician who can provide assistance.
Protecting Your HVAC Unit
No matter what the weather or your location,  have your outdoor HVAC unit inspected regularly by a professional. This will help ensure that it is functioning properly and that there is no damage that could lead to safety hazards.
By taking a few simple steps, you can help ensure that your outdoor HVAC unit is safe and reliable.
Jack Hall Plumbing & Heating has been installing home and business heating and cooling units in Glens Falls, Queensbury, Lake George, Saratoga Springs for almost four decades. Protect your investment – and your family – by relying on a local, trusted HVAC contractor. Call (518) 792-7114 today to learn more about your home HVAC options!