When it comes to attic insulation, there's no hard and fast rule for determining how many years it will do its job. Even if the manufacturer says their product will last for x number of years, this number is an estimate of performance under ideal conditions. Realistically, the conditions in just about everyone's attic are far from ideal.
If you live in an older home, there's a good chance that your insulation has never been upgraded or replaced. That means it's probably no longer functioning properly. Also, keep in mind that standard insulation can start to degrade as soon as 15 years after installation if it's in a tough environment.
Here are some key factors that negatively impact the lifespan of your attic insulation and signs that it's time to conduct a thorough inspection.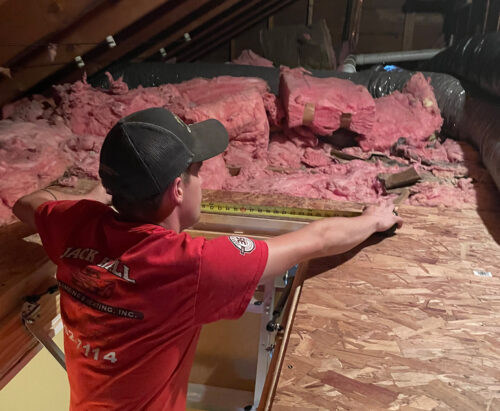 Moisture and Mold:  The biggest threat to the lifespan of insulation is moisture. It can come from leaks in your roof or walls and can also occur when there's a gap or damage to the insulation. What then happens is warm air flows through these gaps and runs into cold air creating condensation. The resulting moisture promotes a perfect environment for mold.  If your attic always seems damp or you've seen mold on the insulation, contact Jack Hall Home Energy services, for an inspection to check things out and make necessary recommendations
Rodent and Pest Damage: Rodents and insects like attic insulation because the material is great for burrowing and building nests. When critters move into your attic, the nests not only damage the insulation, the accumulation of urine and feces impacts air quality and contaminates the home. This damage also makes it easier for pests to get into the rest of your house through the attic space.
Check the Heating Bill: Your heating bill is a good indicator of how efficiently your insulation is working. Your HVAC system will work harder to try to counteract drafts and other temperature fluctuations, resulting in a higher usage at the end of the month. If you notice your heating or cooling bill climbing, it's a good time to inspect and change your attic insulation. The skilled technicians at Jack Hall Home Energy Services can diagnose the problem whether it's the insulation or another issue with your HVAC system.
Heating and Cooling Issues: If you continuously run the HVAC system to keep your house or certain rooms at a comfortable temperature, this is a red flag that the insulation is failing to trap the cold or hot air and should be replaced.
Dirty, Dusty Insulation: All vented attic spaces eventually get covered in grit from outside that settles on the insulation. This dust can contain environmental contaminants, such as heavy metals, that can go all the way back to when the home was built. For older homes with dirty, dusty insulation a thorough cleaning out and replacing existing insulation should be strongly considered.
At Jack Hall Home Energy Services our technicians can perform a thorough attic inspection to determine if your insulation is past its prime. We provide high-quality attic insulation and air sealing and offer free home insulation estimates in Glens Falls, Saratoga Springs, Queensbury, and throughout the surrounding areas. Give us a call today at 1-518-792-7114 or click below.