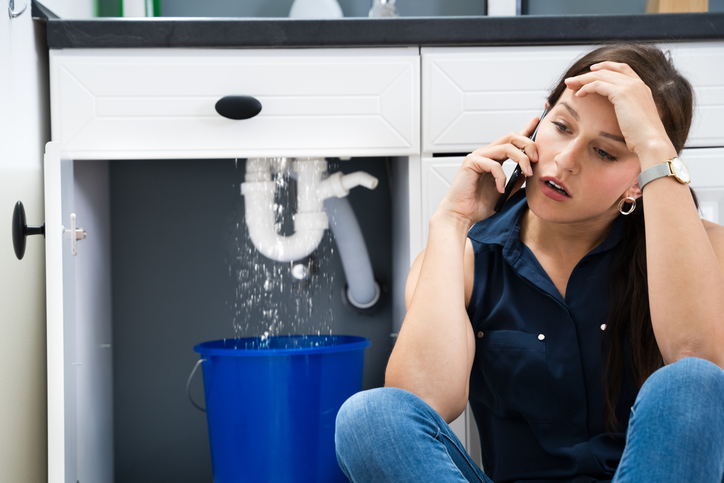 Since Jack Hall Plumbing & Heating was founded back in 1984, we've answered thousands of calls from customers having plumbing emergencies. We see so many common issues, that our team usually has a good idea of what's going on before they even get to the home or business.
While Jack Hall Plumbing & Heating handles all aspects of plumbing repair and replacement, here are the top emergency jobs we get calls for:
Leaking Hot Water Heaters – The older your water heater gets, the more likely it is to leak. You'll notice water underneath the unit or hear a dripping sound coming from inside it. A higher water bill is another solid clue that there's an issue. If you ignore these signs for long enough, then the leak can get much worse and cause, you guessed it, an emergency. Depending on the issue, we can fix the unit, but if it's an older hot water tank and has extensive rust replacement is the way to go.
Sewer Backups: When working properly, your home's sewer wastewater lines move dirty water away from the house. The most common type of sewer backup comes from clogged pipes, which can be caused by everything from toilet paper to kitchen grease. The signs that you're on the verge of a backup aren't tough to spot. Clogged drains, gurgling toilets, or bad odors coming from drains signal that it's likely you have a sewage line issue that needs to be fixed before it becomes a serious, and messy, emergency.
Leaking, old cast iron piping in old houses – You'll find cast iron piping in most homes built during or before the 1970s and even into the 1980s. It was used because builders believed it was the gold standard for durability. Fifty years later, these pipes have developed rust leading to leaks inside the house and been impacted by tree roots outside. When these pipes start to fail in one area it's a sign all the cast iron pipes are compromised. When we get emergency calls for cast iron piping, the best, long-term option is to replace them with PVC piping. PVC doesn't corrode and is non-toxic so it's safe to use for all kinds of plumbing jobs.
Overflowing Toilets: When the toilets in the house aren't working it's an emergency. Even when using a plunger solves the problem before the toilet overflows, it doesn't fix what is likely to be an issue with the plumbing. If a toilet does overflow, don't use any other plumbing in the house until a technician from Jack Hall Plumbing & Heating arrives to diagnose the problem.
If it is overflowing, simply turn the water shut-off valve behind the toilet to turn off the water.
Sump Pump Failures: In many homes across the Capital Region, homeowners rely on sump pumps to keep their basements from flooding after heavy rain or snow melt. But sump pumps may not even run for a few seasons if there's a dry spell so it's easy to forget about them. To avoid an emergency where you end up with water in the basement, remember to listen to how the sump pump is working during wet weather. If there are irregular cycles or it's running continuously, contact us to check it out before the unit completely fails. Also, if the sump pump runs on electricity DO NOT attempt to fix it by yourself if the basement is flooded. There's a risk of electrocution if the pump is malfunctioning.
At Jack Hall Plumbing & Heating we offer 24/7 emergency plumbing repair to tackle any urgent issues you're having in your home. Our technicians can be there in no time to fix the problem and minimize potential property damage. If you suspect a plumbing problem, schedule a service call today and we can make sure it doesn't turn into an emergency.